"Trudging across the tundra, mile after mile, in search of St. Alfonzo's Pancake Breakfast."
(Frank Zappa)

While those may not be the exact words, trudge across the tundra we did. But we didn't need the pancake breakfast, our bodies being full of a continuous culinary visual feast for the eyes and senses. It looks as though this ol desert has been baked till the colors popped and had white sugar frosting poured all over it. And what can be better, being accompanied by Mrs. Whazoo this time and being in the desert under full winter conditions...blue sky, red rocks and white snow. Did I mention cold? That's where the feast for the senses comes in, senses we live in Phoenix, aka Hell on earth, I am wanting to bottle some of these temps and open them in full summer when I'm working outside.

Original goal: Take Mrs. Whazoo back to some cliff dwellings I visited last trip and find 2 more sets of ruins that I'd left to go back and find with my wife by my side. Boy how Mother Nature can change things, as in the better laid plans of mice and Whazoos. I had been told by BLM in Blanding, Utah that I couldn't access any dirt roads at all due to big snow. The worst possible thing to say to the Whazoo..."CAN"T!" So off we went to see for ourselves.

On the road I stopped for a quick shot of a piece of Monument Valley, gift wrapped in a beautiful white. This is the north side of the valley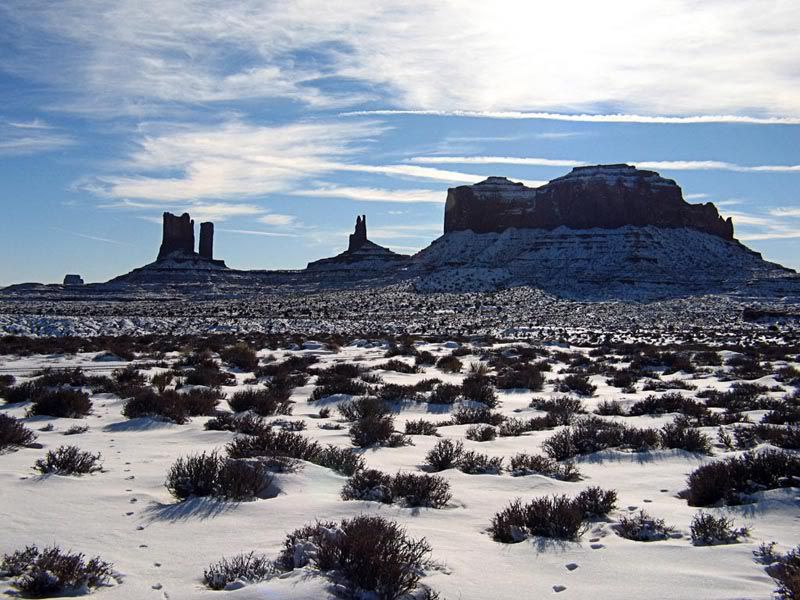 South facing side of the valley, less snow as per more sun.



First was the trip up the Whazoo (Moqui) Dugway, a fairly steep and twisty route to the top of Whazoo (Cedar) Mesa. The road was iced up and was the first "thrill" of the trip. Better to go up than down we were thinking!



Plantcicle, water coming off the cliff above made a strange looking apparition, like the plant from a Freddy Krueger movie.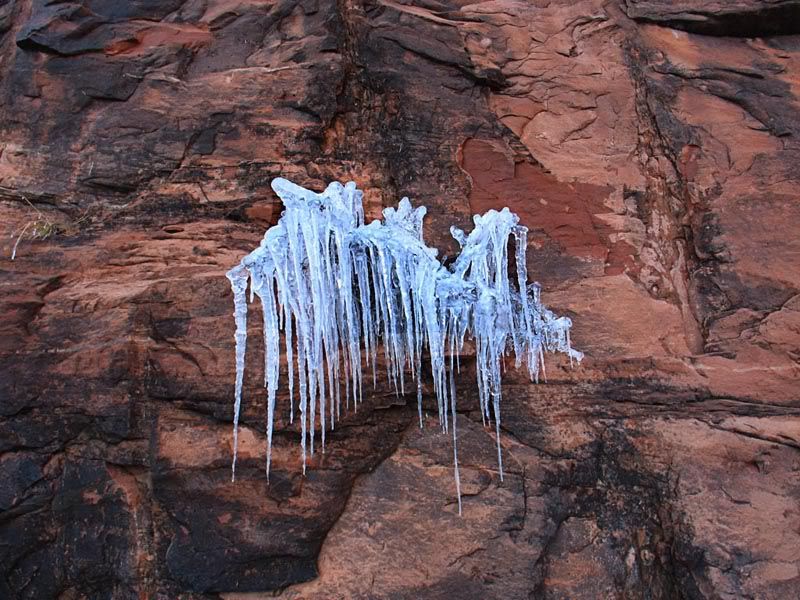 View from the top of the Dugway.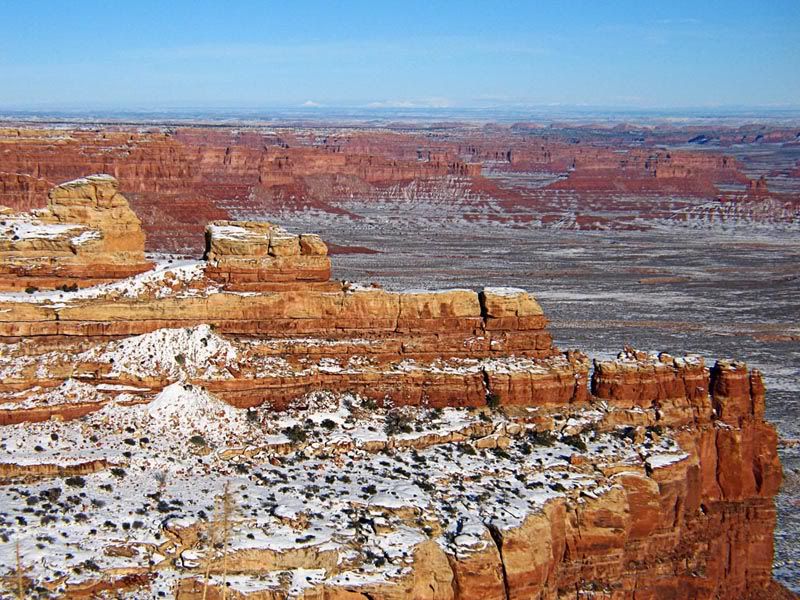 Reaching the top we ran into a street party, many friends were there. This was a testament to how deep the snow was, and our first indication of things to come...if the cows can't walk in it, how will we drive in it?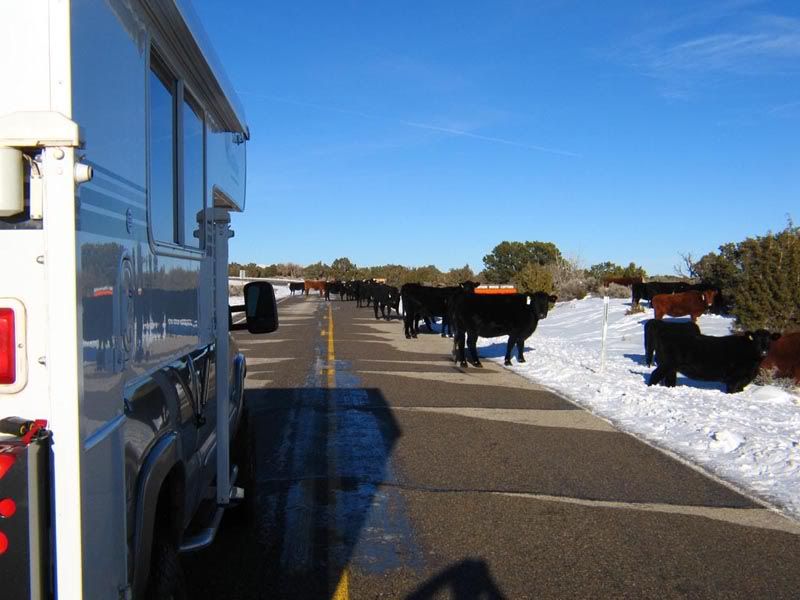 Heading down the road to Whazoo (Muley) Point, I am amazed as to how so many roads look flat and featurless, only to arrive at some awesome canyon vista. Surely my eastern friends should know that many roads in Arizona and Utah will eventually bring you to a canyon, Grand or not.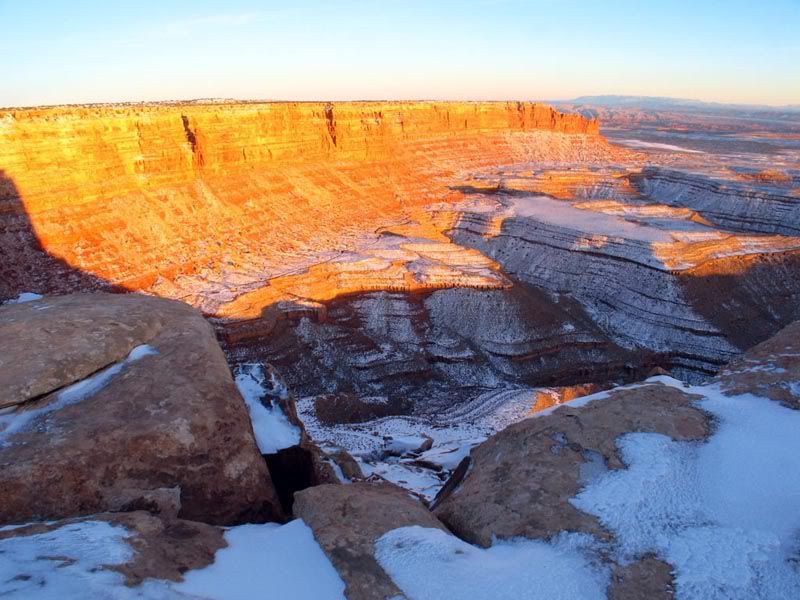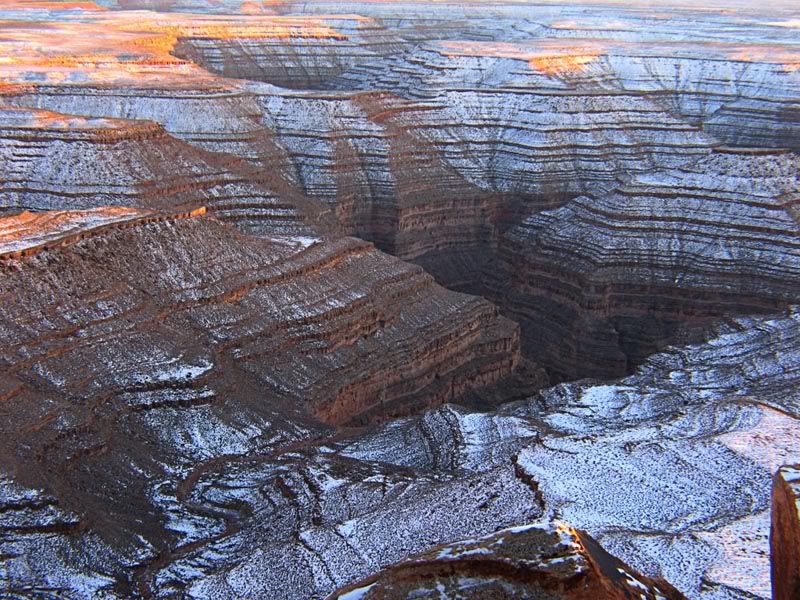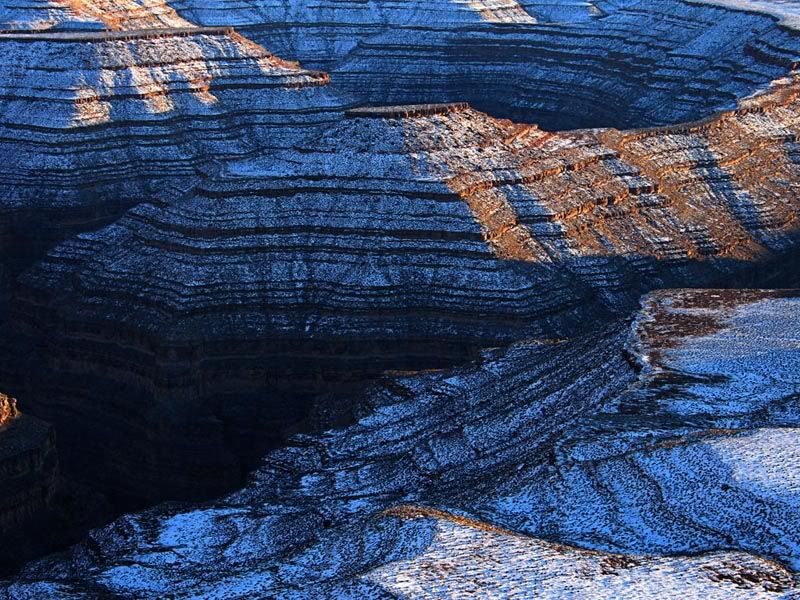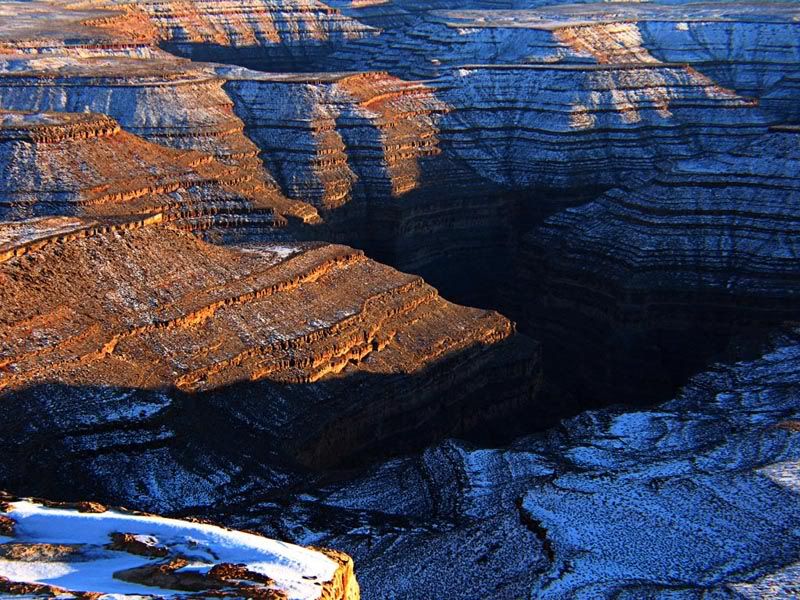 With our first cold night coming on it was time to find the best spot to camp...and start taking pictures like a madman.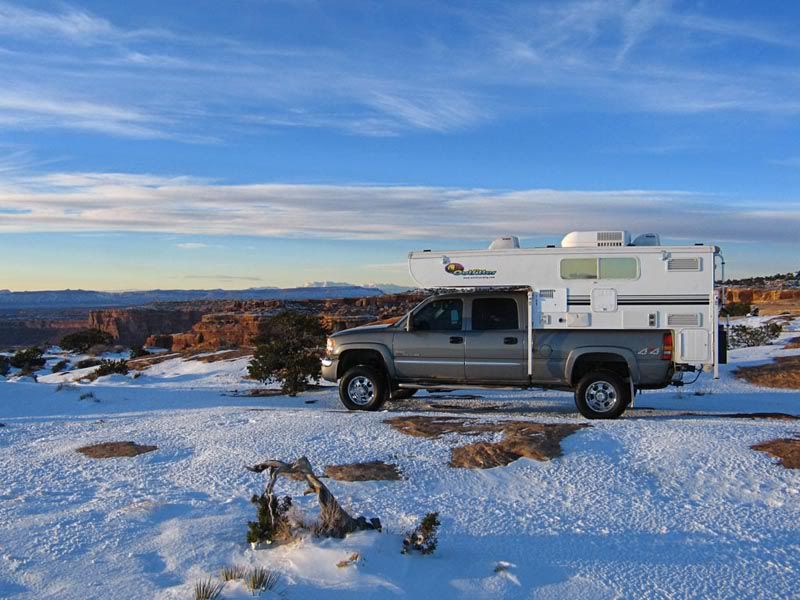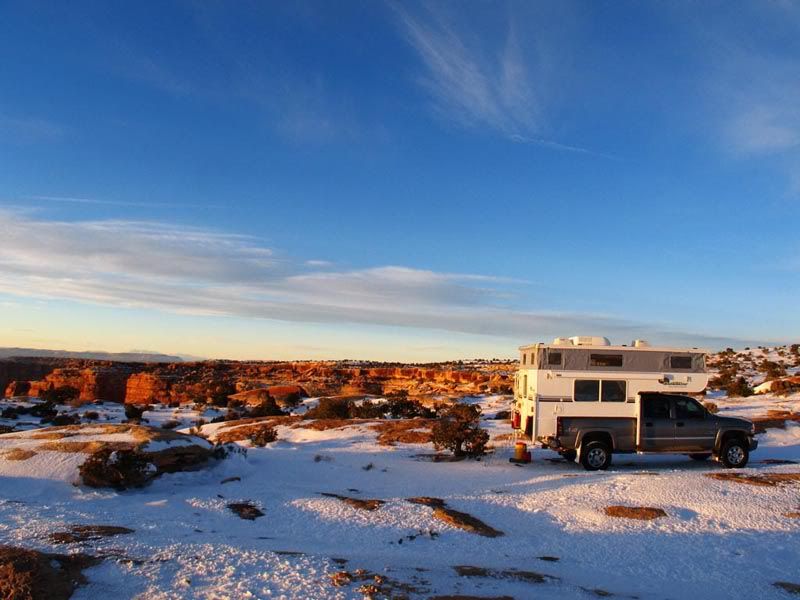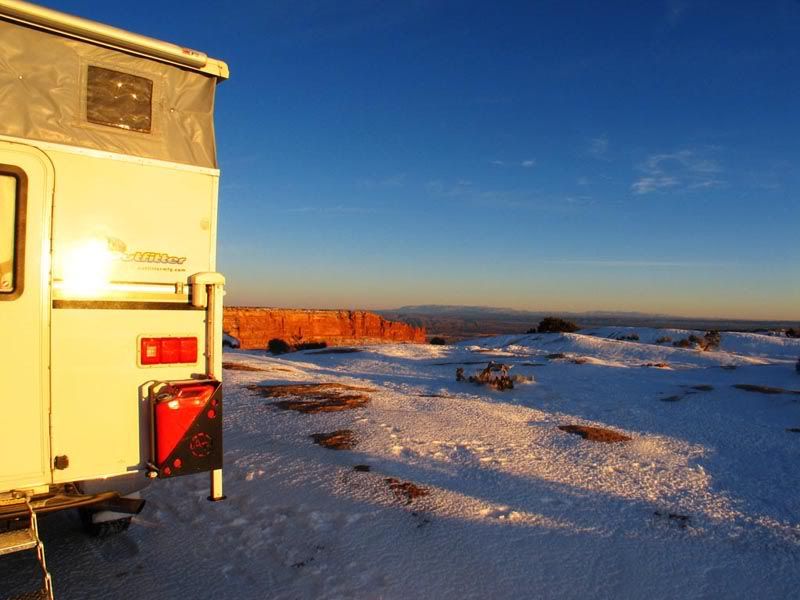 I am now more than ever thankfull for my little Wave 3 heater, as it supplements the forced air and allows us to survive the night. Although...sleeping in long johns helps too!
A few morning shots to follow...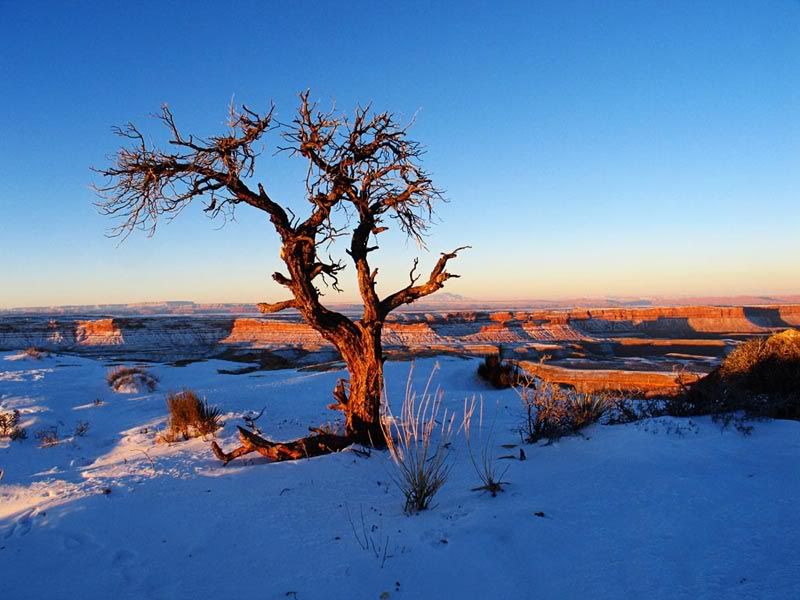 The San Juan River, middle of the picture, carves this canyon.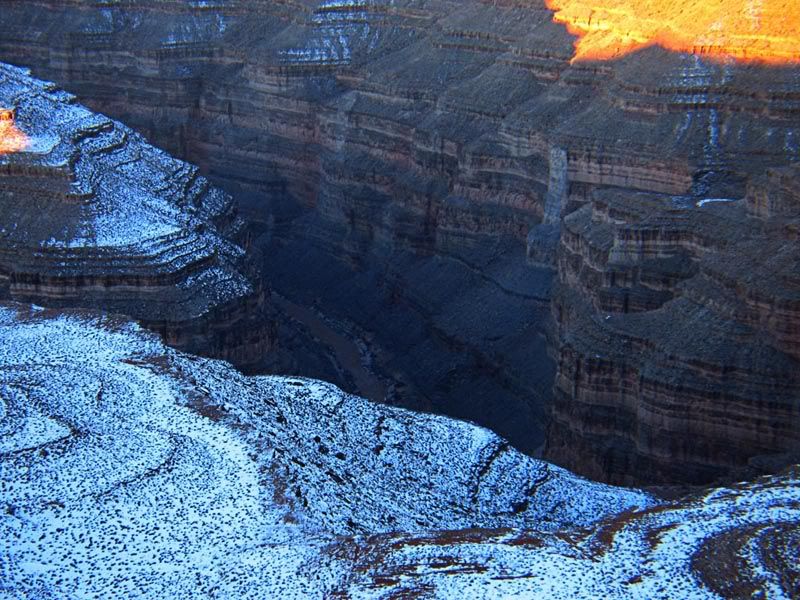 Having also been told that I couldn't even get in the Kane Gulch Ranger Station parking lot, I had to try...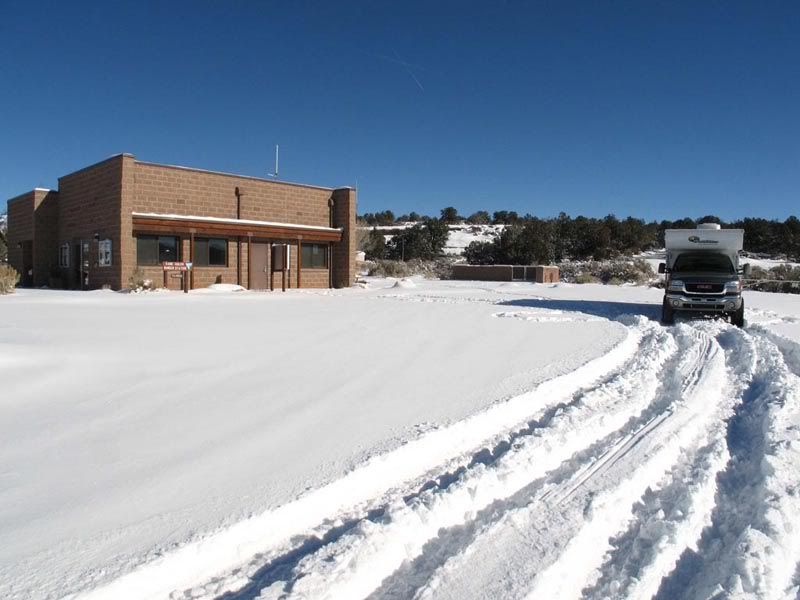 ...so I could snowshoe to the restroom. Thank you God, for snowshoes! Though I will say it's hard to snowshoe with your legs crossed.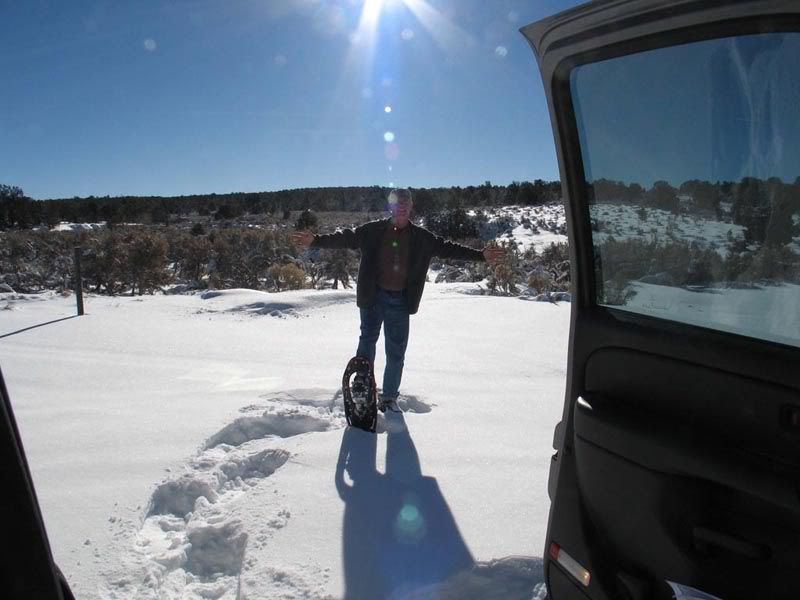 I can't say exactly how many roads we did try, a bunch for sure. Most already had 1 set of tracks on them and we figured them to be cattlemen. We were right as we watched one cowboy in a dually 4wheel flat bed WITH chains literally fight his way towards us, having already been to the end of the road 8 miles away. It was the first road I backed out of, about 3 miles on Cigarette Springs Road as there was absolutely no place to move over. Almost getting stuck ourselves as we tried. And it was like the cowboy said, the snow was 2 feet deep and camping would be miserable with no flat spots to walk around outside the truck, not to mention no turning around. I figure I backed up about 5 miles total on those snow covered dirt roads, not fun with a camper. And yes, I had chains too. Use them on the front when I use them at all.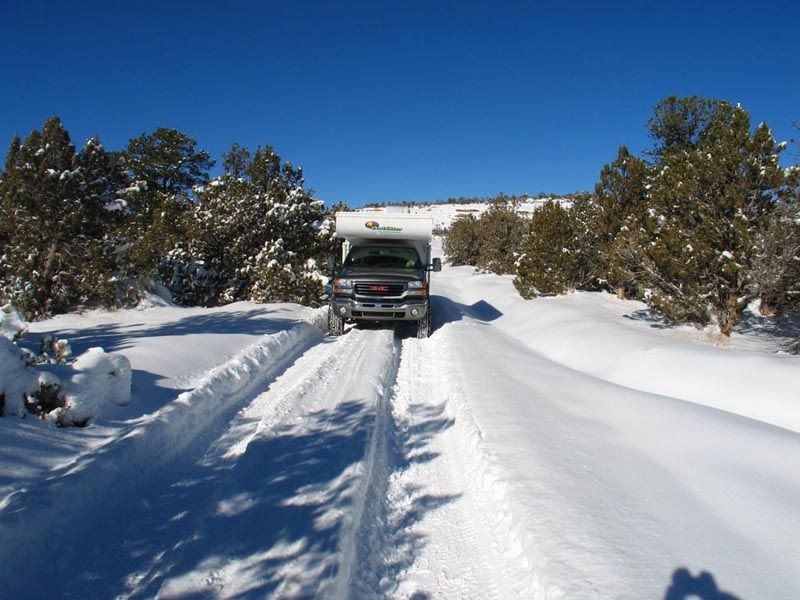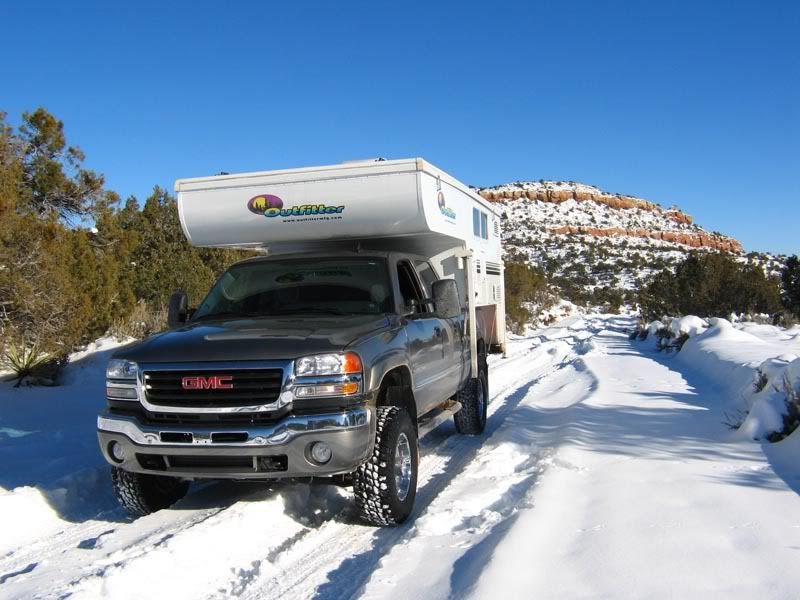 When is an arch not an arch? When it's a bridge, of course. Although I did have to arch a bit to take this picture, having taken a quick side trip to Natural Bridges Park.



Finally, after realizing that truly I CAN'T get down those roads, and with head hung low, we headed for lower Butler Wash and a lower altitude hoping for less white stuff. It was perfect.



The Manti-La Sal Mountains are in the distance. A smaller version of the La Sals above Moab, Utah.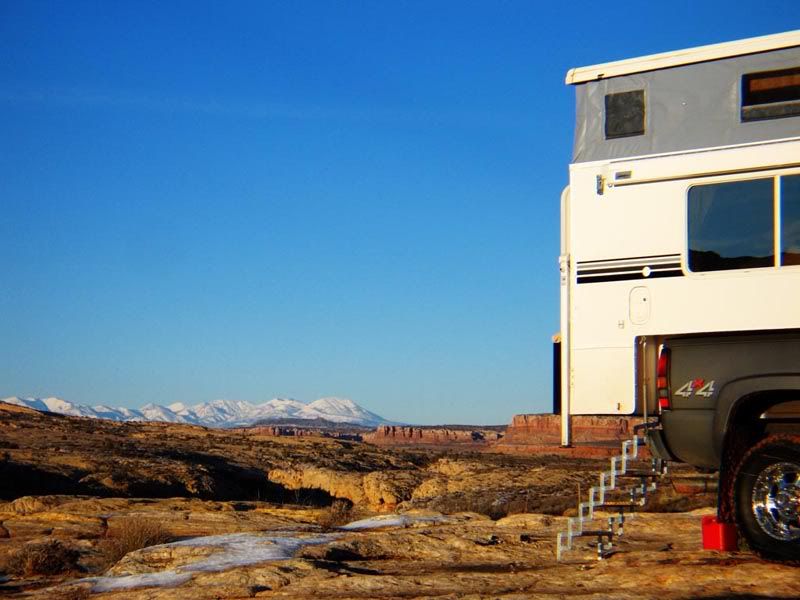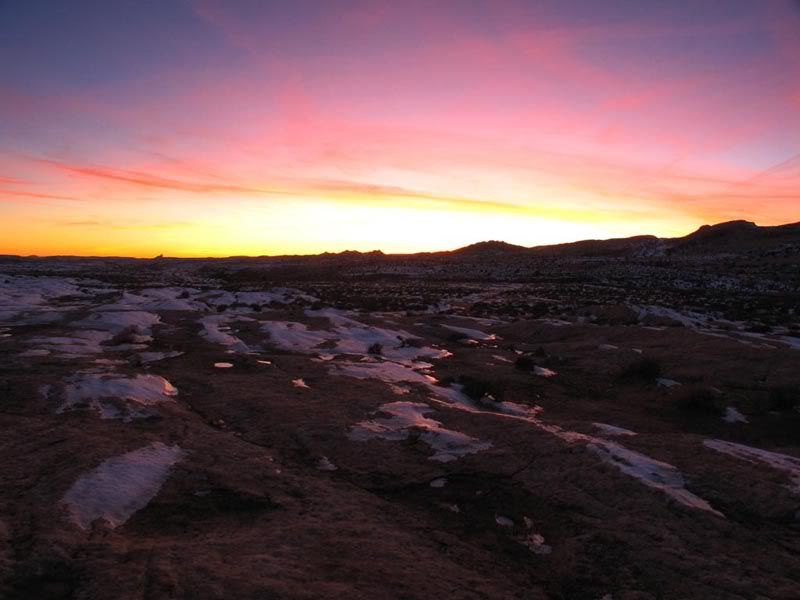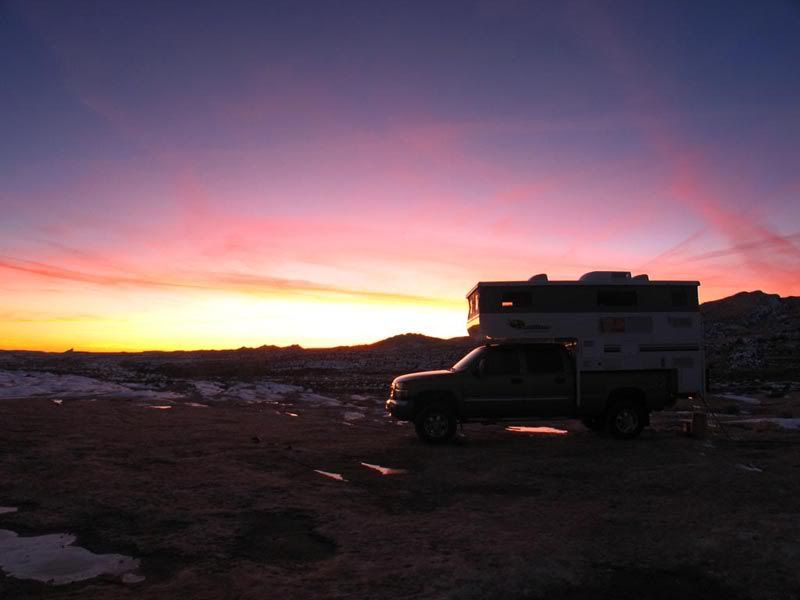 And who says you can't ice skate on a small pond?! I think by now I've covered a few hundred miles worth. Dig that style...Apollo Ohno, eat your heart out!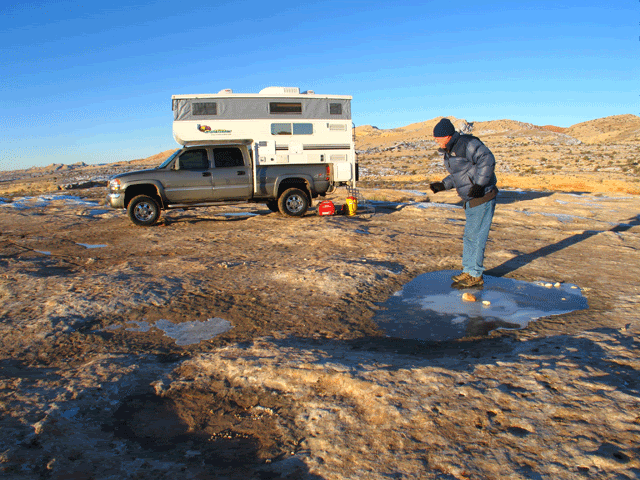 And so again the next day I found myself climbing to the top of Comb Ridge for some great views of snow in the southwest.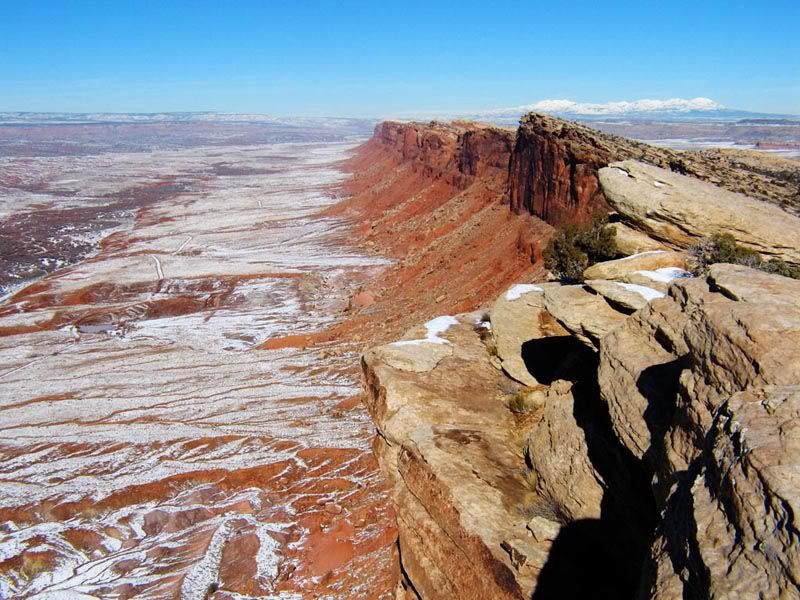 I know it doesn't look real, but it is, looking like a Bev Doolittle painting.



Your guides for this trip, the Whazoos.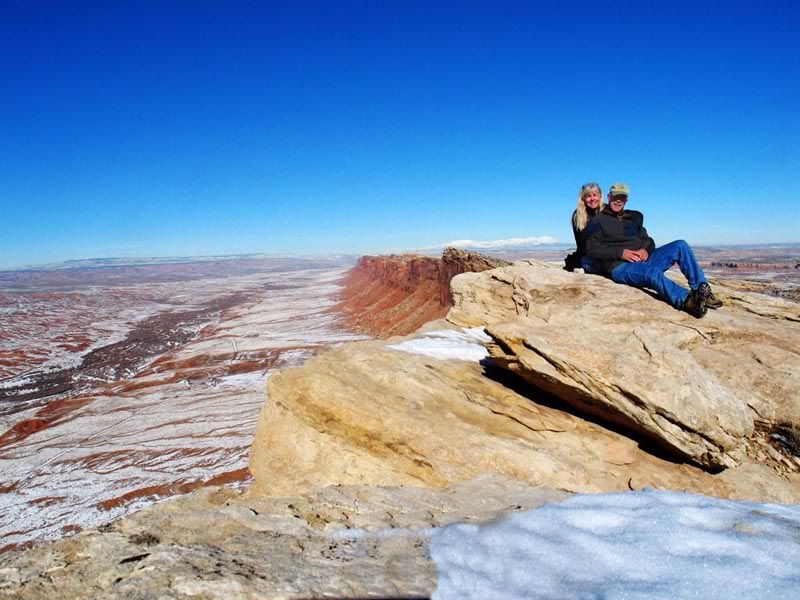 Looking back at Butler Wash, the truck is there somewhere.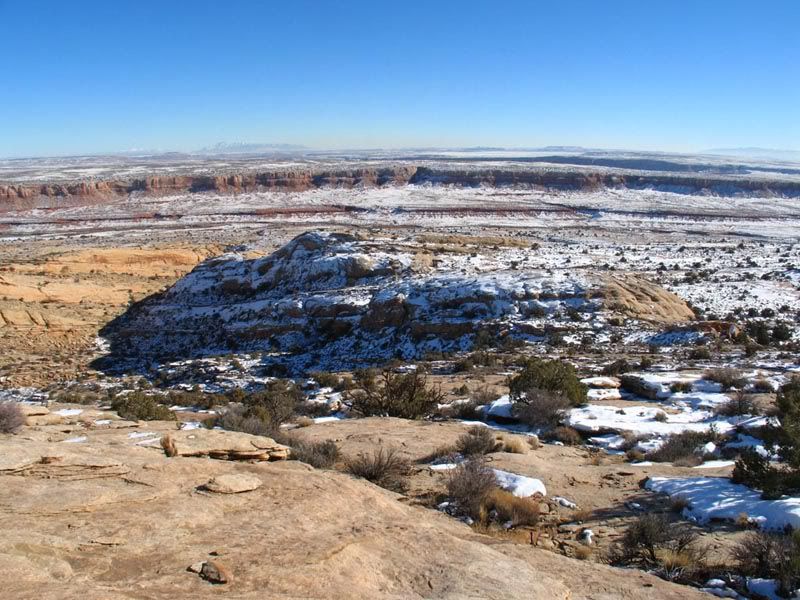 I think I'm lichen this picture.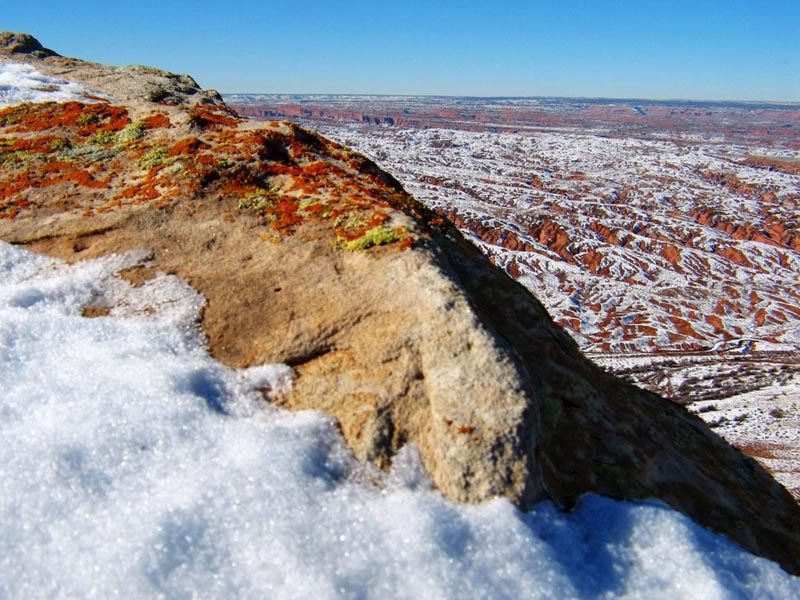 So realizing that with no roads comes no cliff dwellings we decide to head for another area of the state west of Lake Powell. Permits are very hard to come by for Whazoo Buttes as only 20 people per day are allowed in. 10 from internet permits and 10 walk-up permits.
How lucky were we to have a bunch of people back out because of the road to the Buttes being very icy and indeed a truck had slid off the road, upside down, as mentioned to us by the Kanab BLM. So away we went not wanting to miss a chance at the Buttes with snow. The road in had some great scenery & wildlife.(wild cows, watch out) However, after seeing Baby Moo, Mrs. Whazoo lost her desire for burgers on the grill that evening. It was pizza night anyway.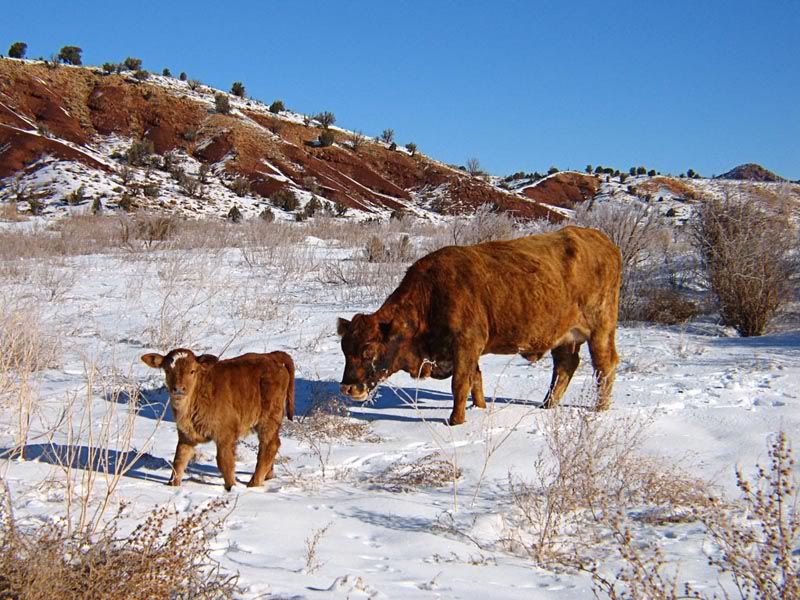 The Grand Staircase, visible in the distance.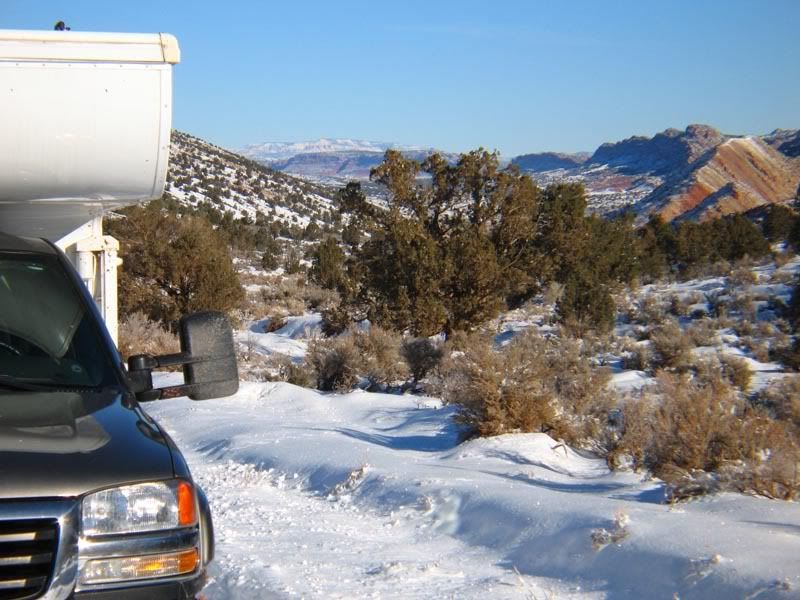 The hike to Whazoo Buttes is about 7 miles round trip and WOW is an appropriate word for the area, you'll see...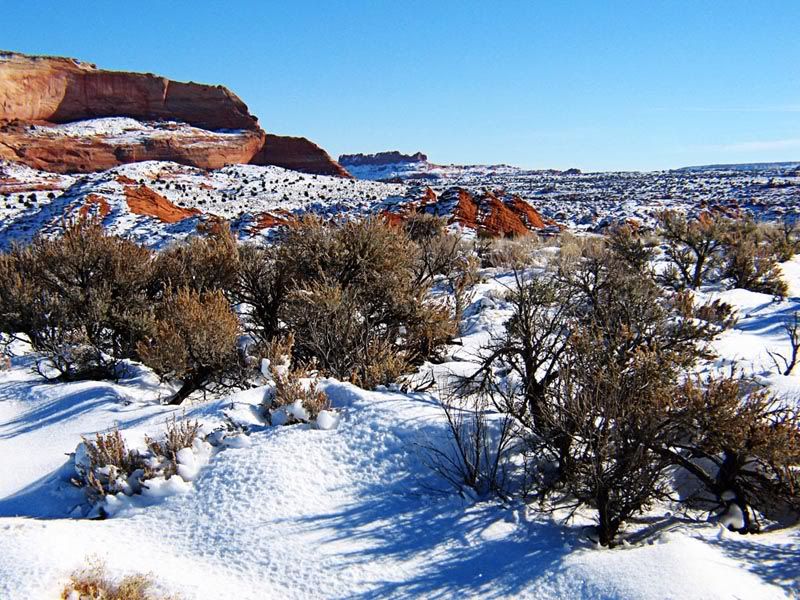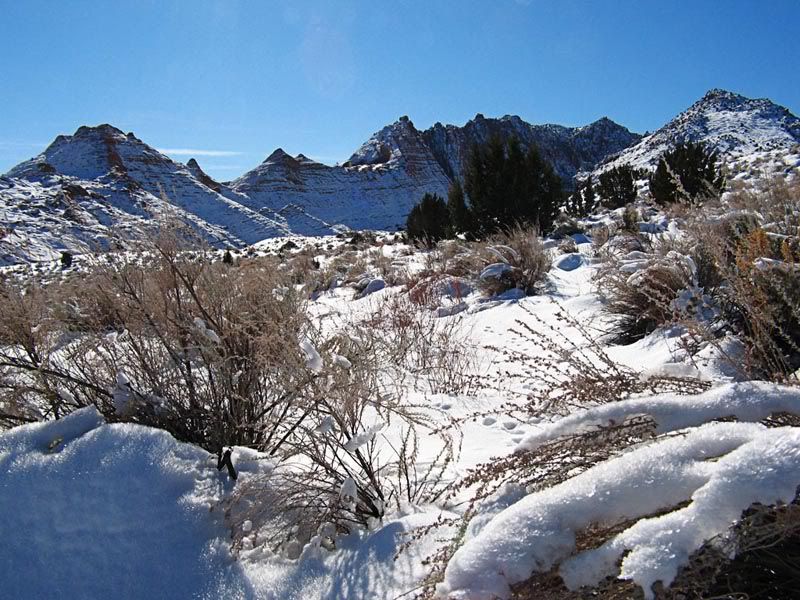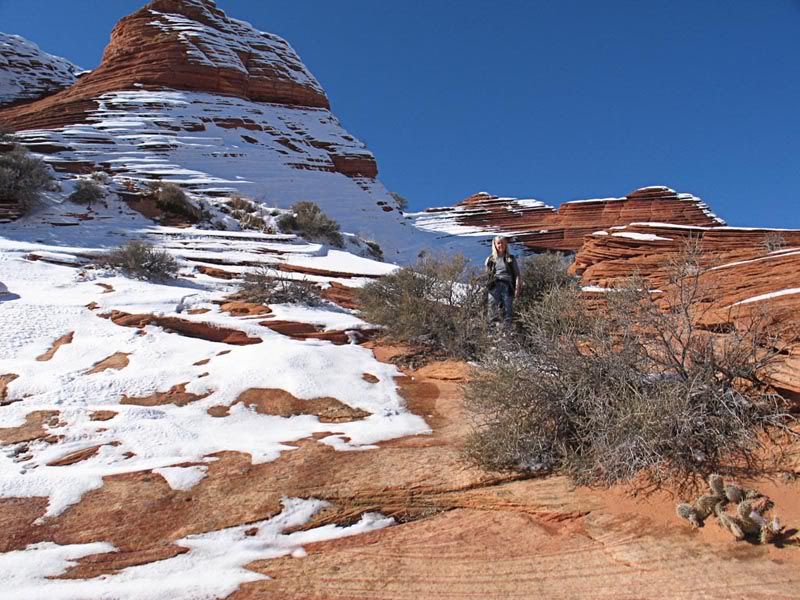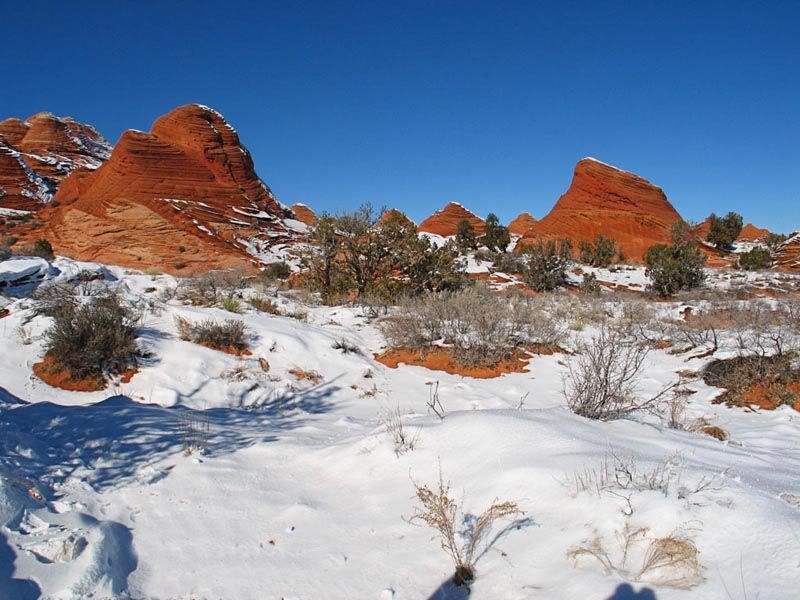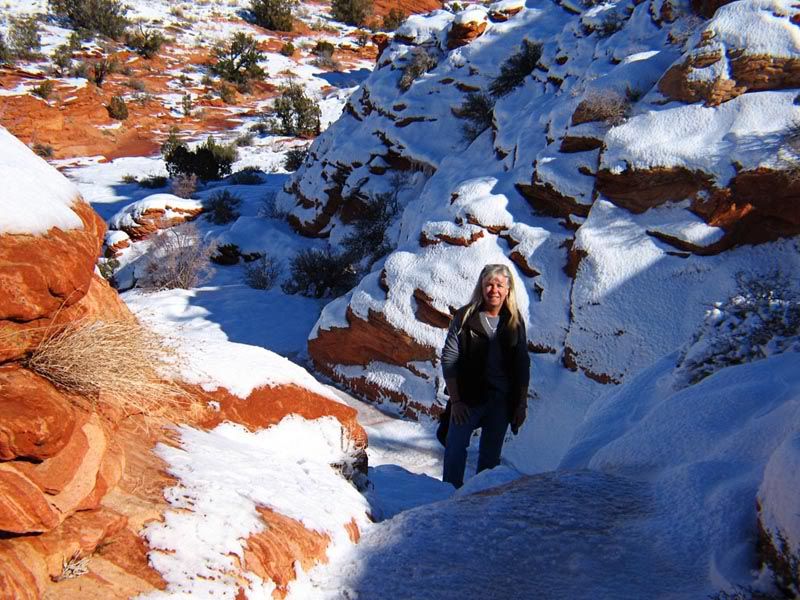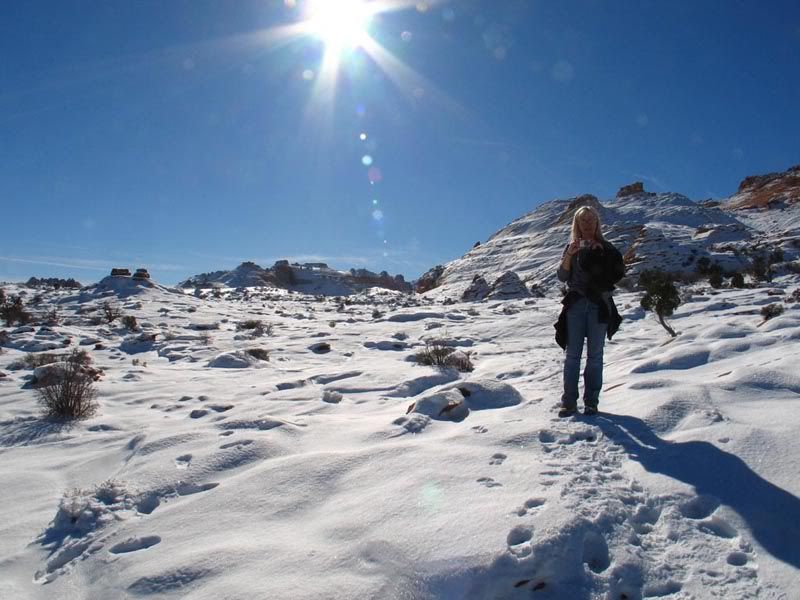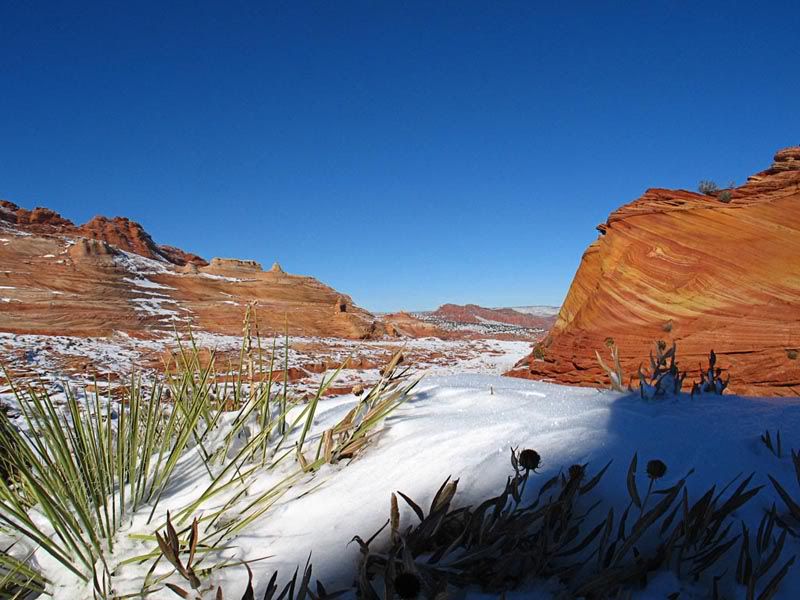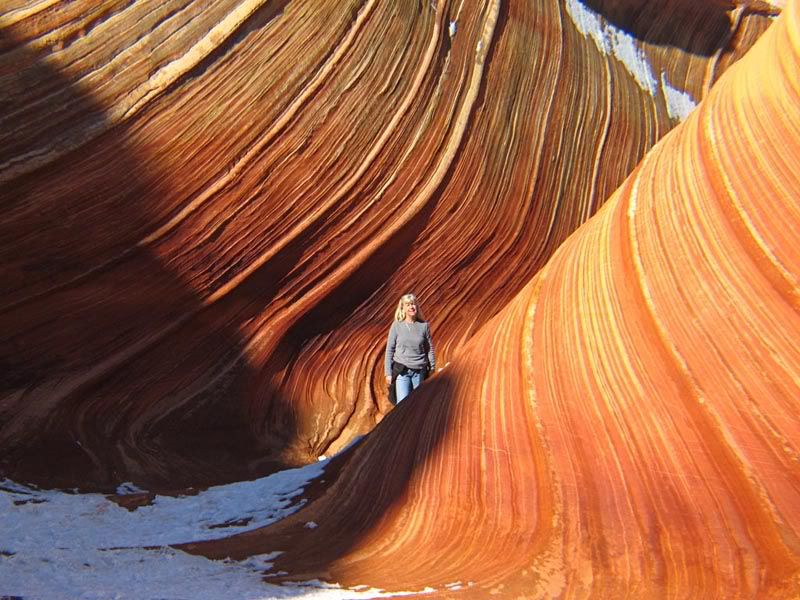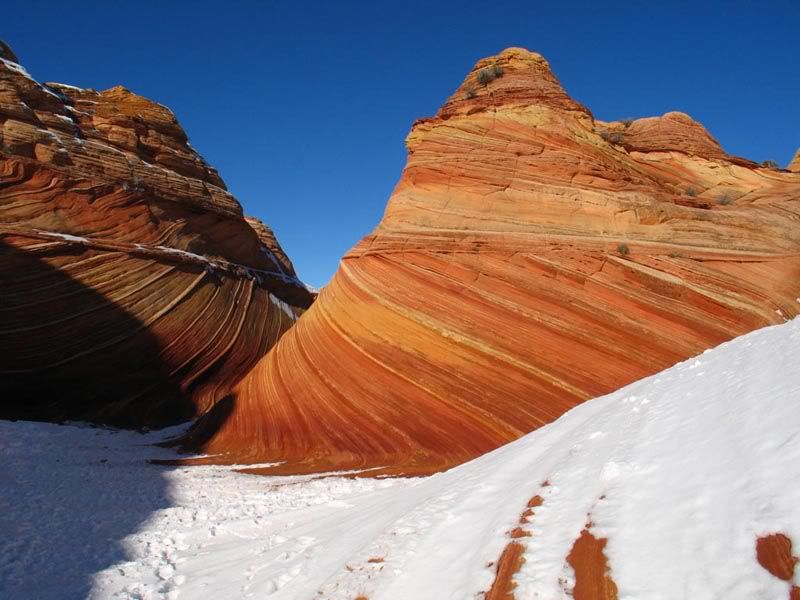 Did I mention your guides? Oh,I did?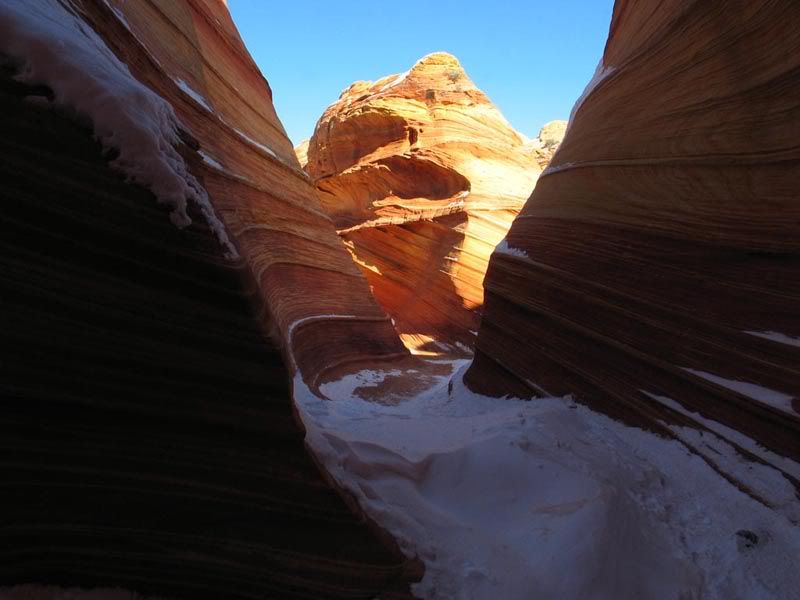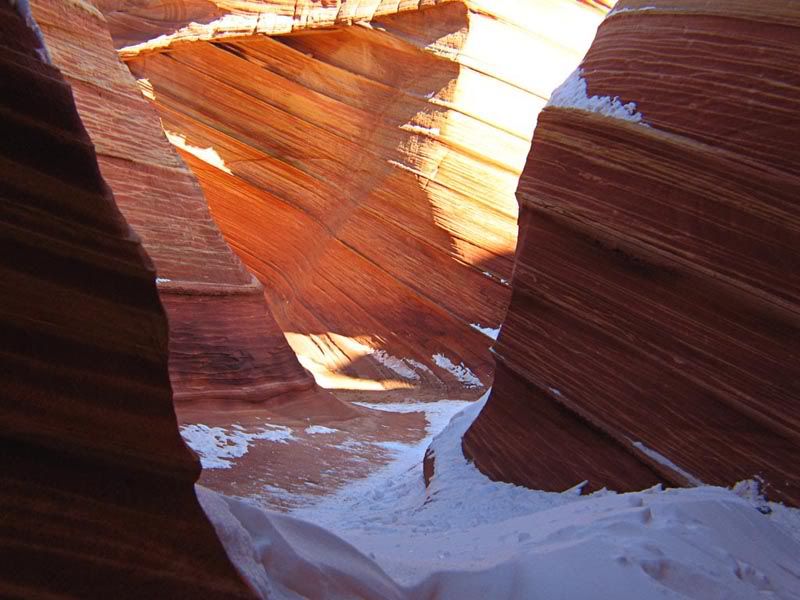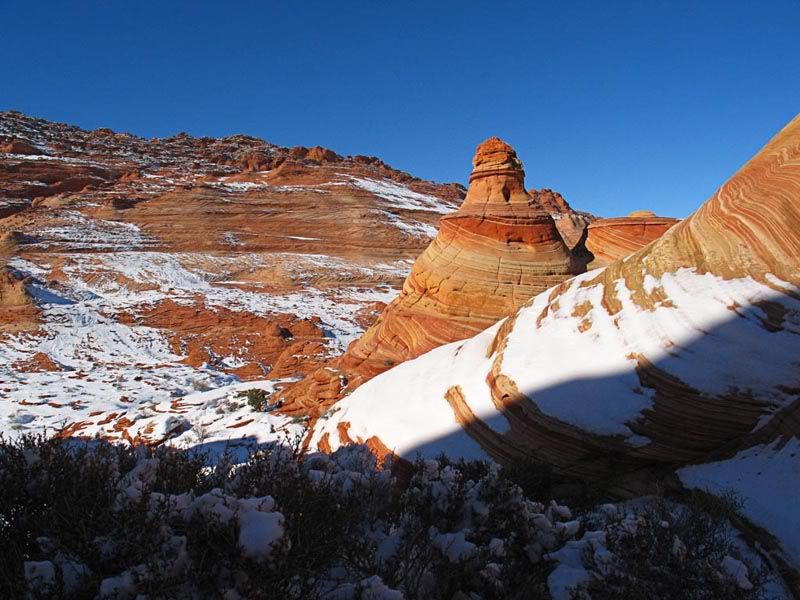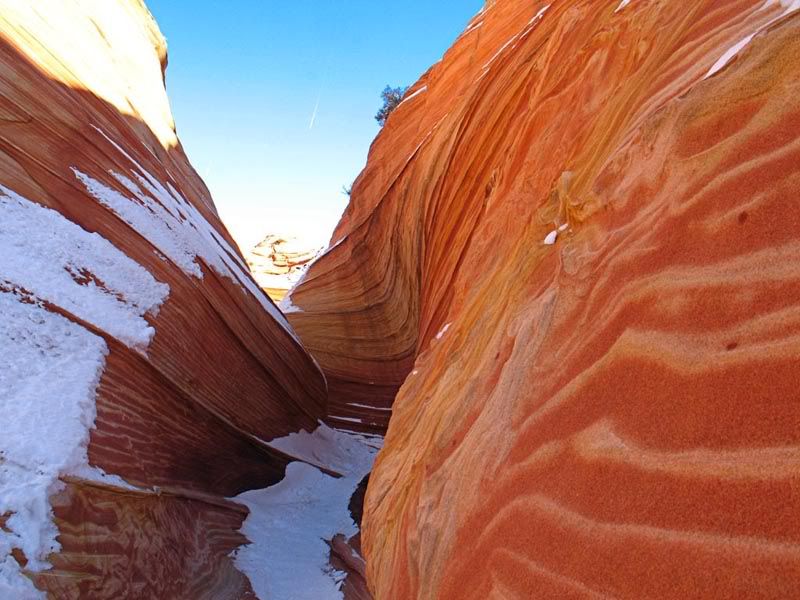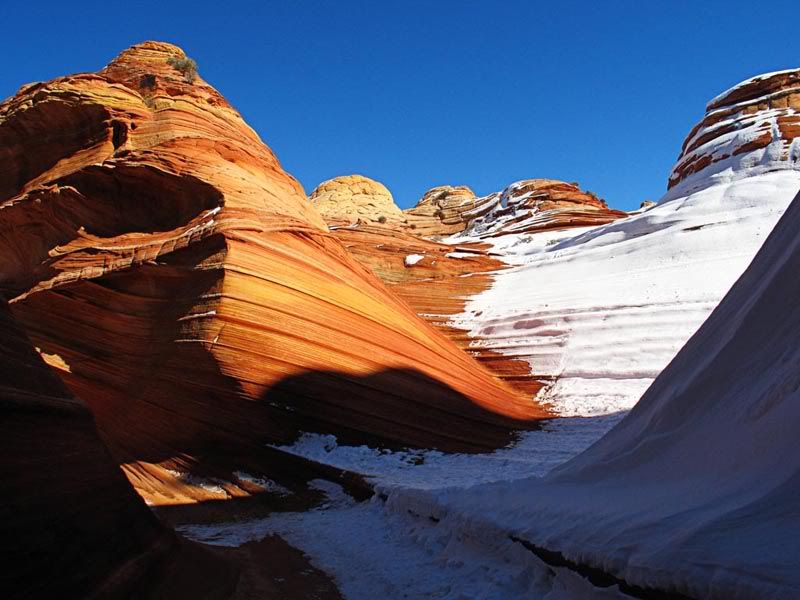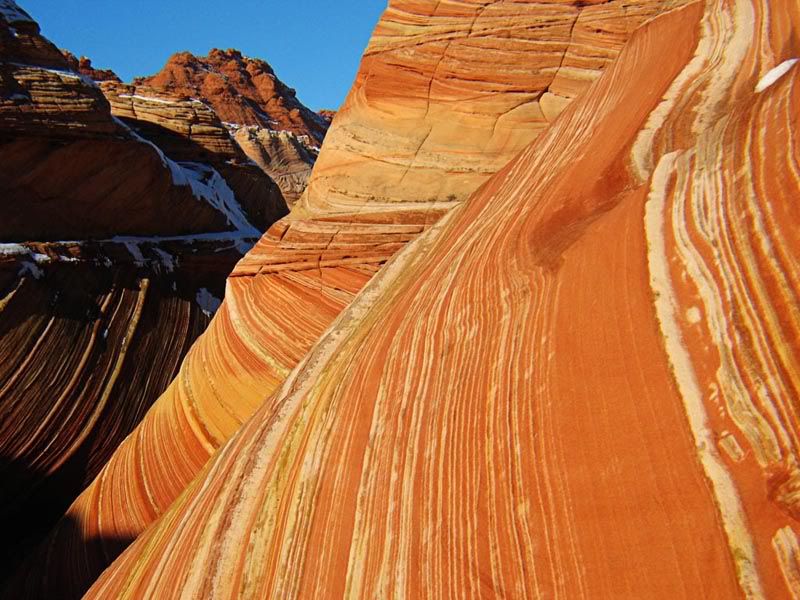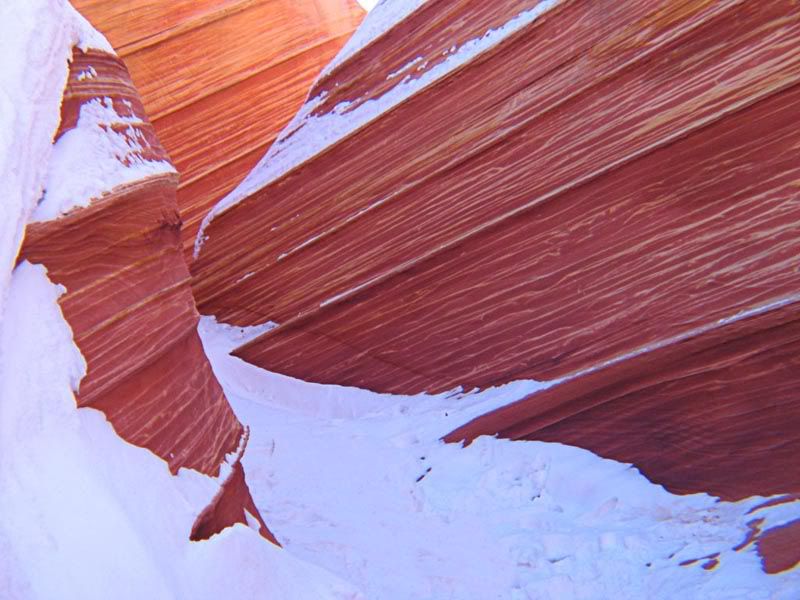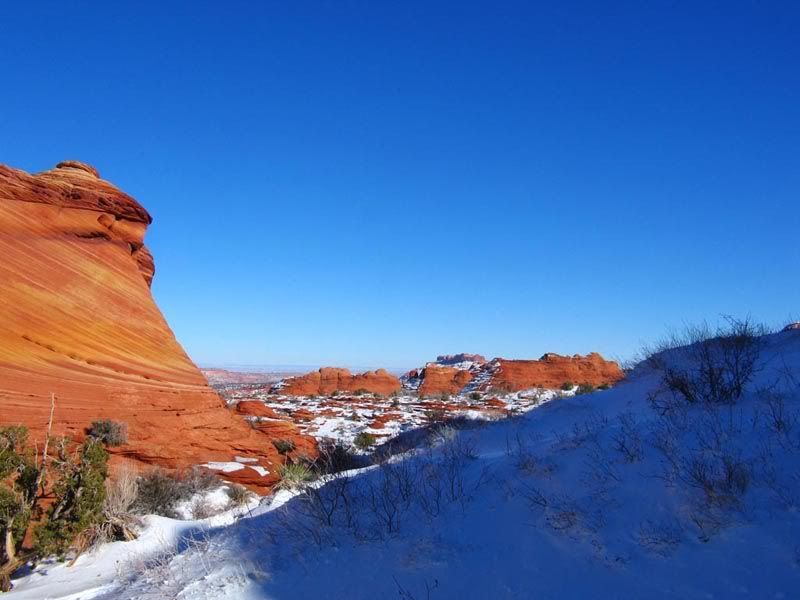 Did I mention your guide...he's looking kinda lost!.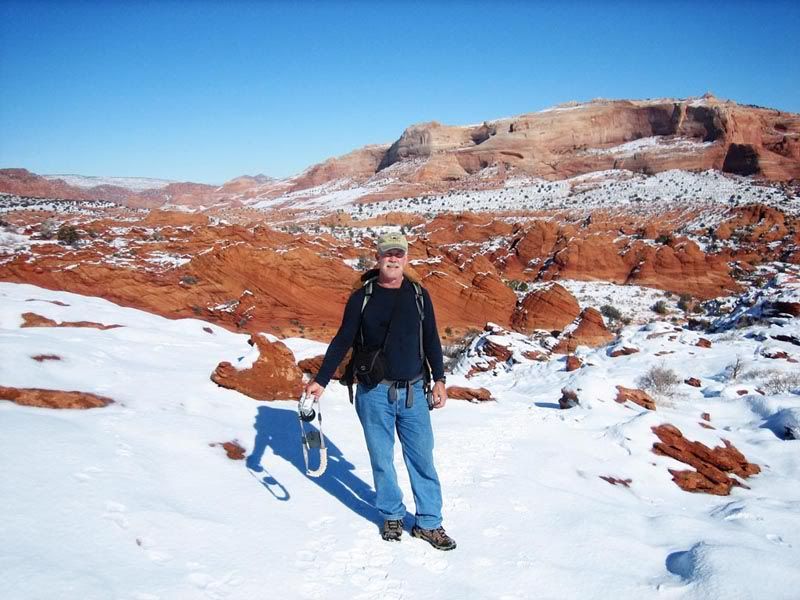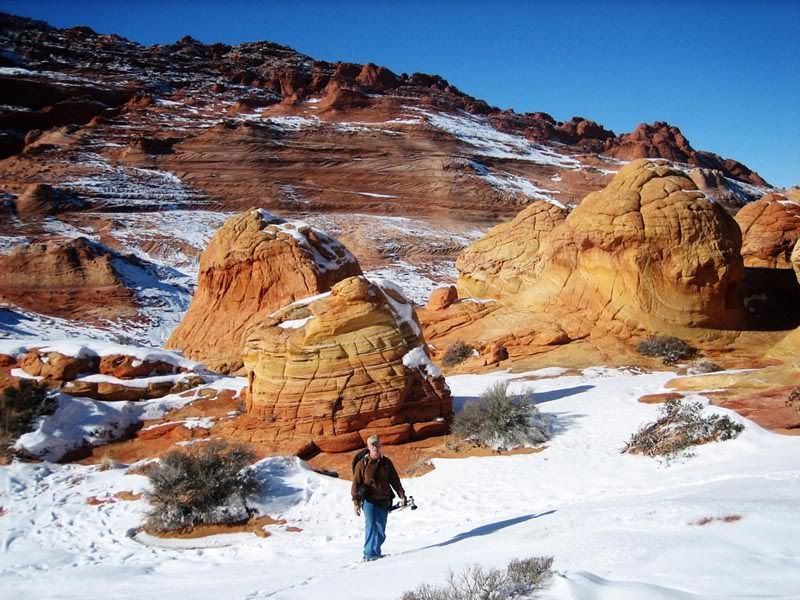 Geez, now I know I'm lost. Even without snow, there is no trail to this place as mostly you walk on rock, through rock and around rock.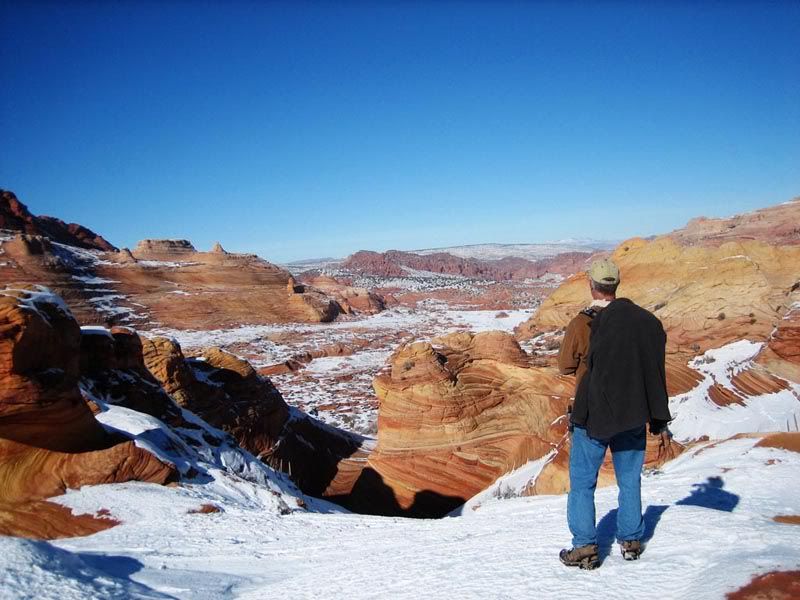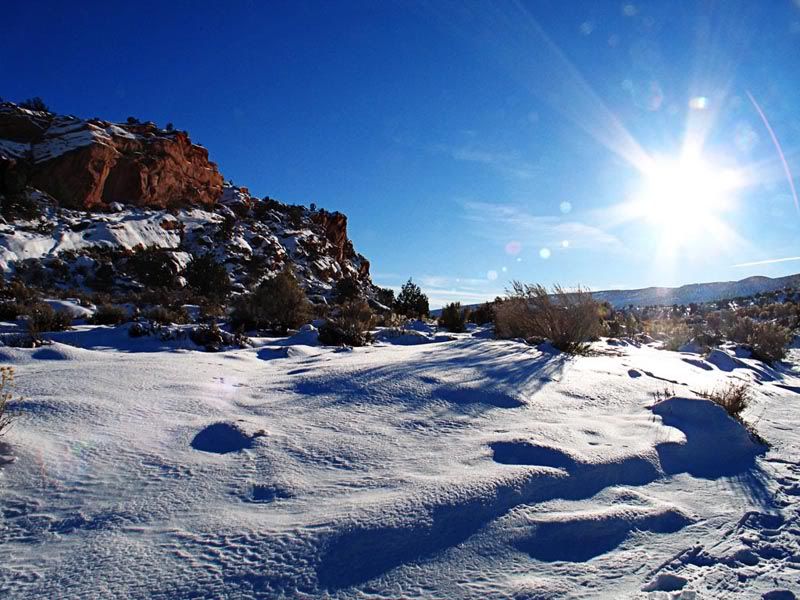 Love of my life. Did I mention she likes to camp and hike? AND cook breakfast in a camper! To think we've been camping and hiking together for 29 years now, and I still can't find her secret stash of Dick Clark pills.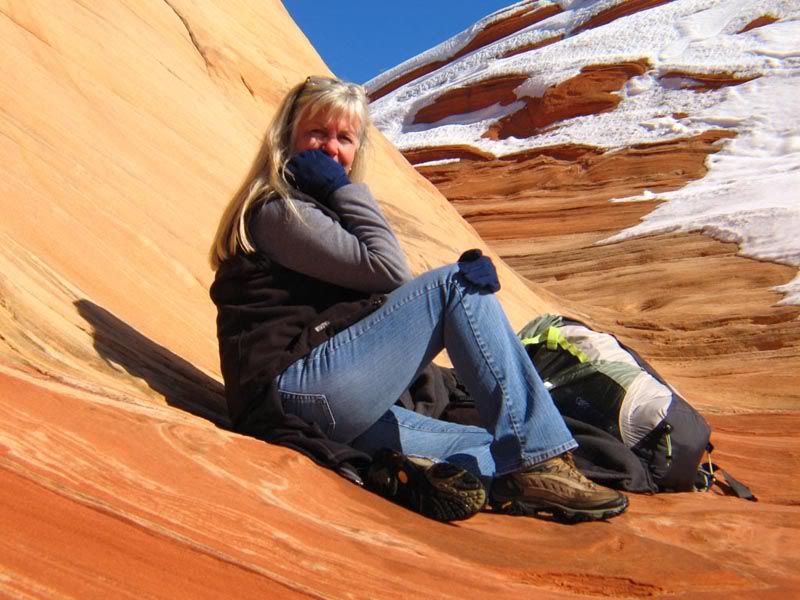 I don't know who this fella is, don't recognize him. He was wondering around with a camera...and muttering to himself about a pancake breakfast at St. Alfonso's.



Back on the road we see more wildlife. I think it's the nayyybors.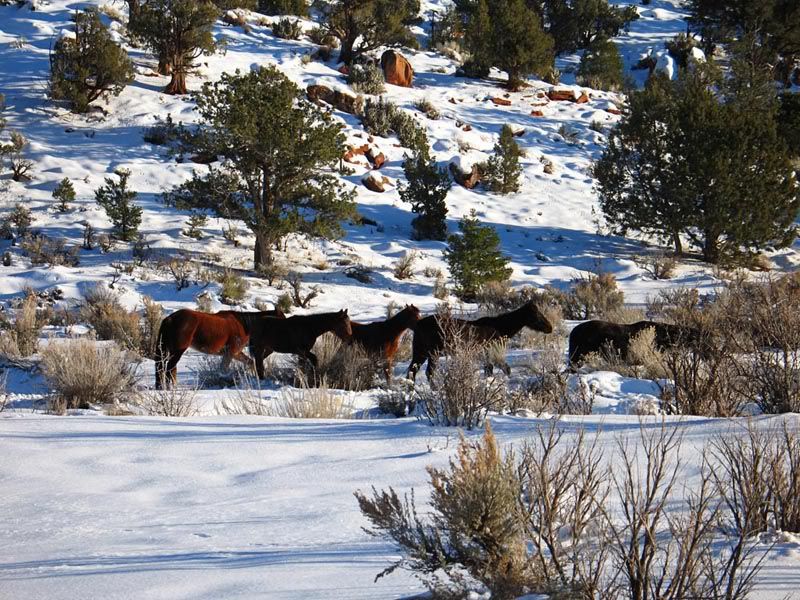 We finally find a little ol camp spot a couple miles down the road. Wonderful, no one but us!! What a magic spot this was to be.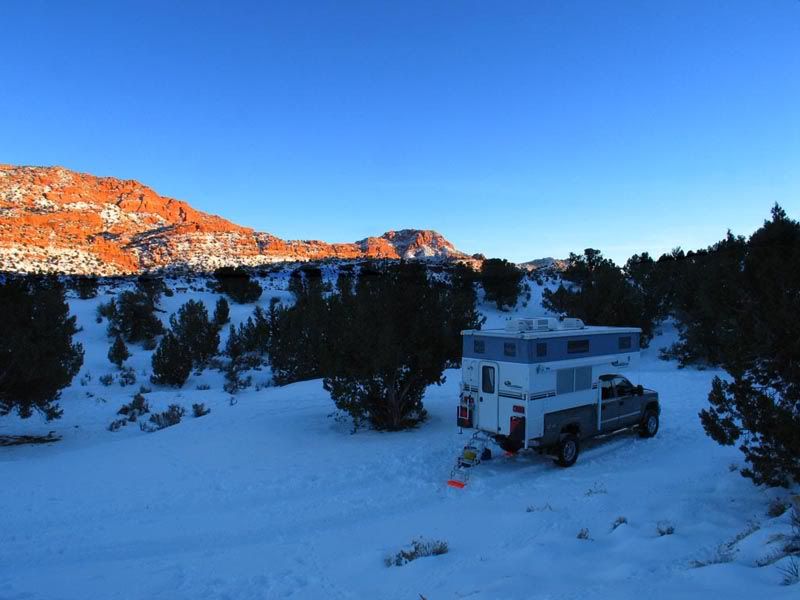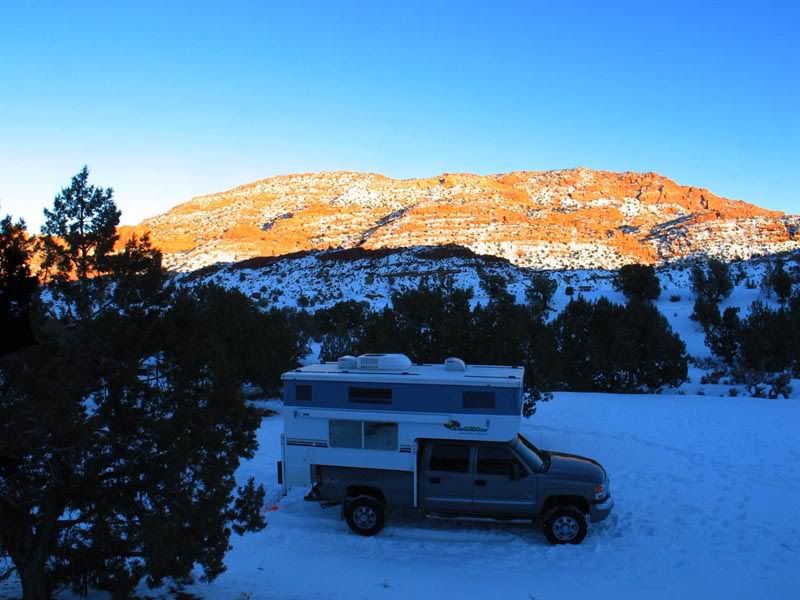 Sunset was awesome, and it was a super time to snowshoe.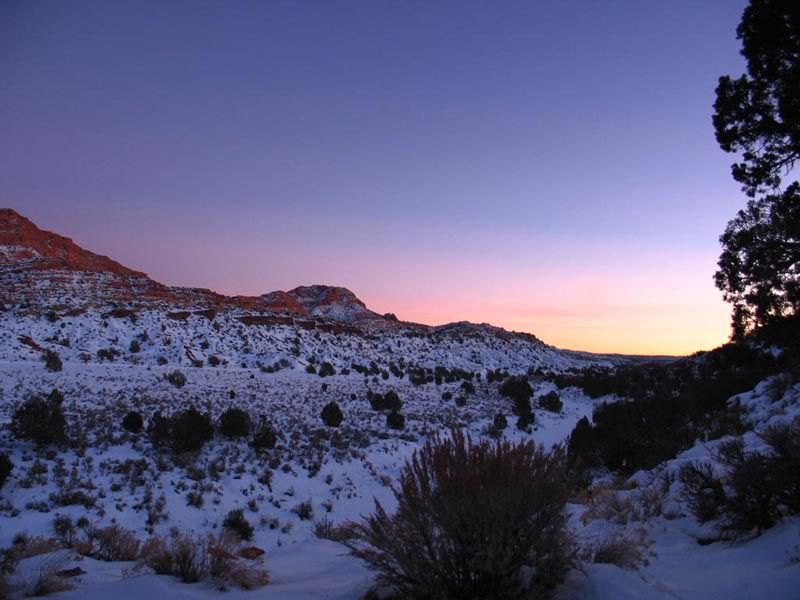 Snowshoeing after rum & coke, at least it's a soft fall. Note:no one was injured in the making of this picture. Kids, don't try this at home.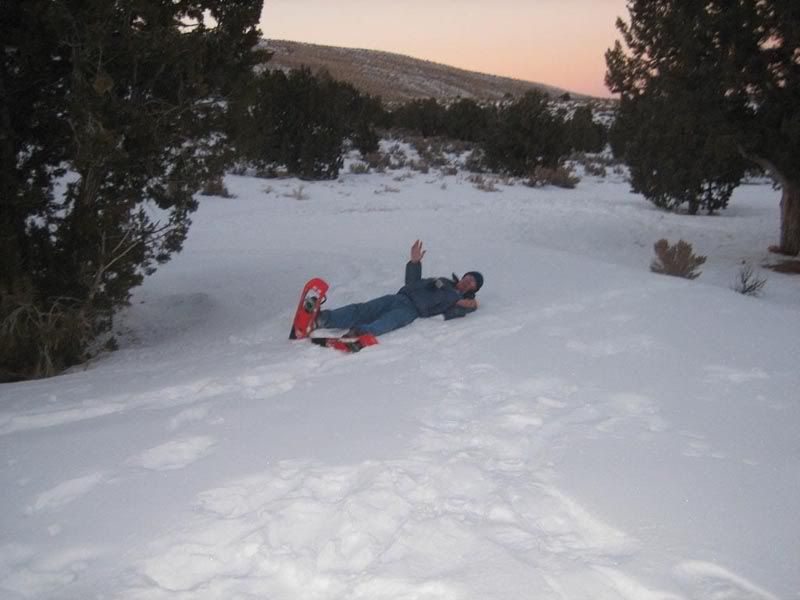 Yes, my eyes ARE open, I swear they are.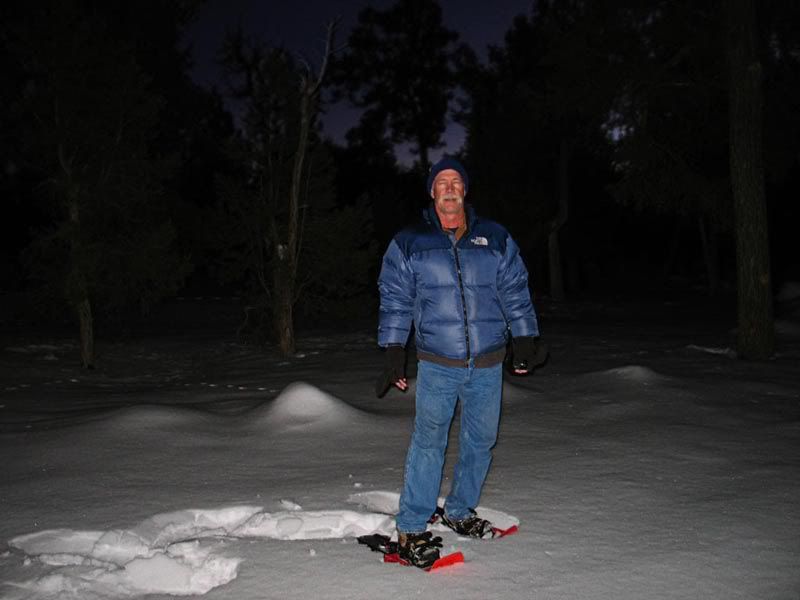 Morning temps were brisk, to a certain degree,and I had to run back into the camper where it was nice and warm, breakfast was waiting AND Bonanza was on the tube!



I'm not sure why I thought these pictures were cool, just huge ice crystals on the windshield. Yeah, I see em every day round these parts, here in Phoenix.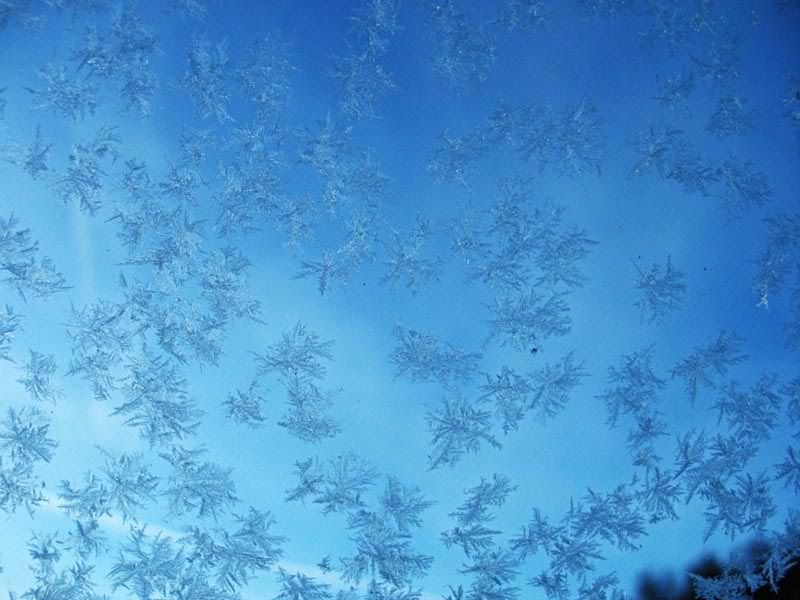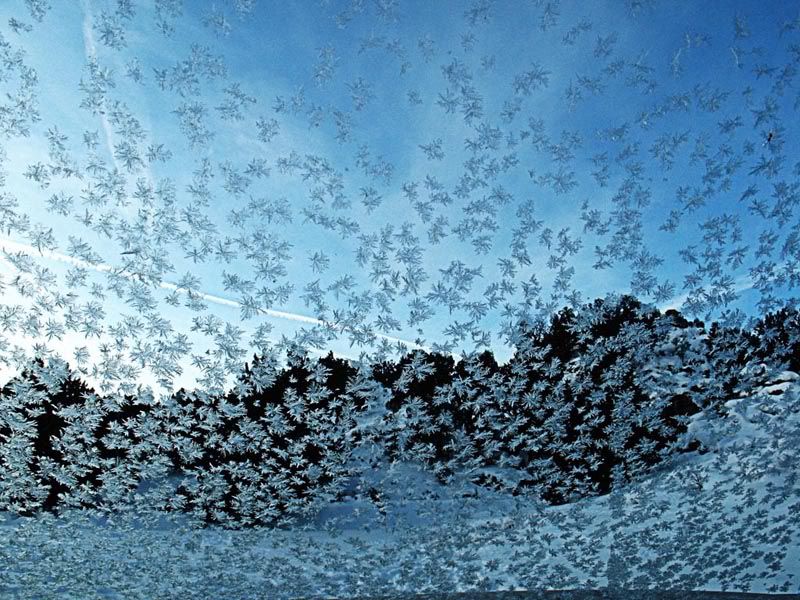 Looking at this picture I see we were in a major flight path. That, or word got out we were having too much fun and everybody was looking for us. Personally, I think those were RV.NET planes flying a search grid for the Whazoo's!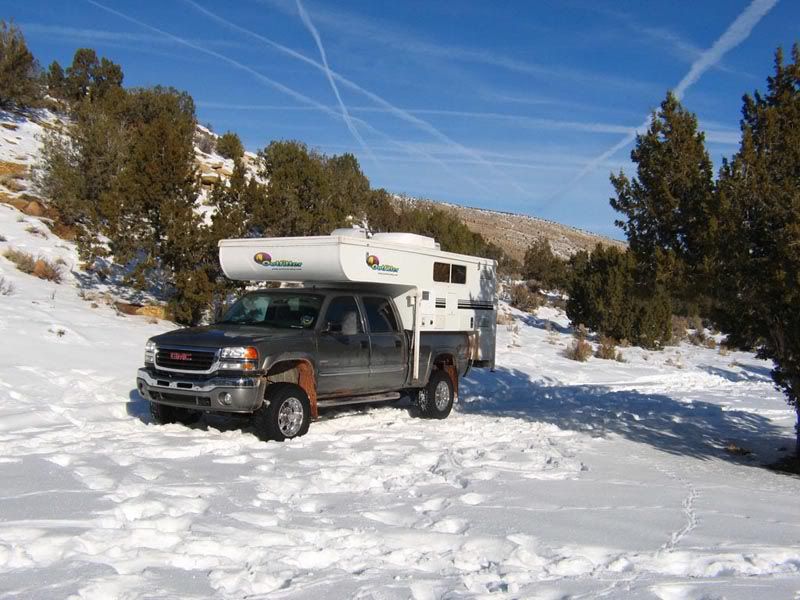 Looks like my Outfitter had a runny nose in the morning with inside moisture running out the window drip vents. Moisture was rampant that night, both of us having taken showers with it sooo cold outside. Even with vents open it didn't help much. Do you know how much fun it is to do snow angels, naked, just after a shower? How should I know, what do think I am, crazy?



Global warming gone wrong, so wrong.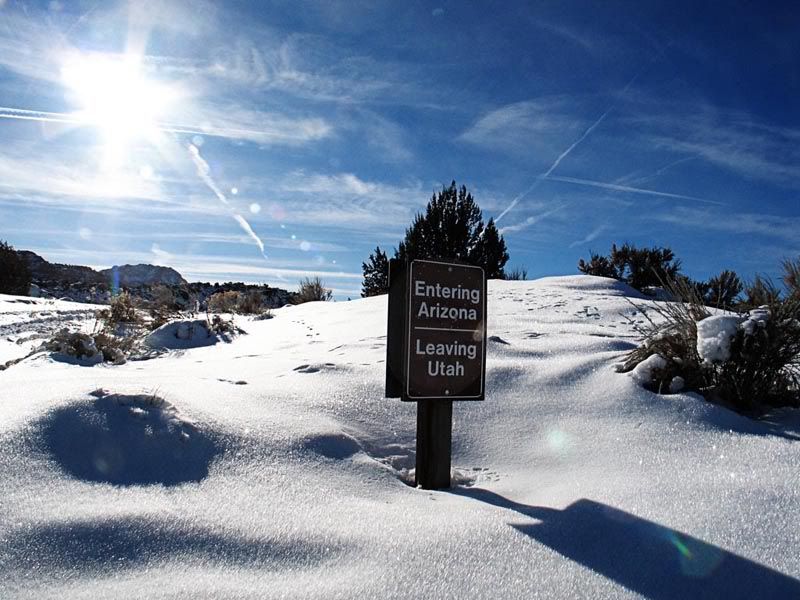 We both had a good laugh at this sign, thinking we were already on Winter Road. How wrong can you be?



Oh no, another sign along the Vermillion Cliffs. It shows the wheel base, I mean wingspan, of several birds including the nearly extinct Whazoo Bird. Would you believe this is a viewing area for the giant Condor which was missing today, on vacation in Florida.



Meanwhile we've stopped to see our new house, built to blend in with the surroundings. The carport needs to be a bit taller though.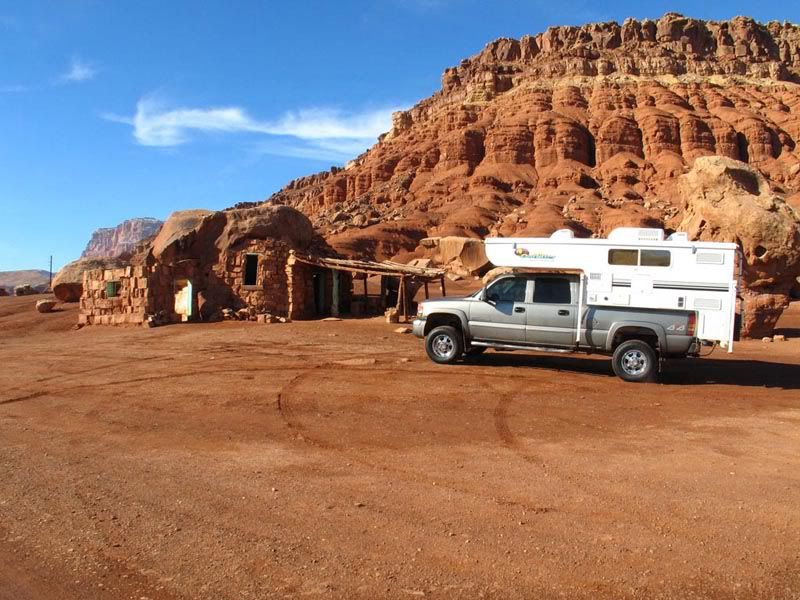 Last stop is the South Rim of the Grand Canyon. Gotta move around a bit, the Whazoo's like to move around. Like most of you with campers, we be Gypsies.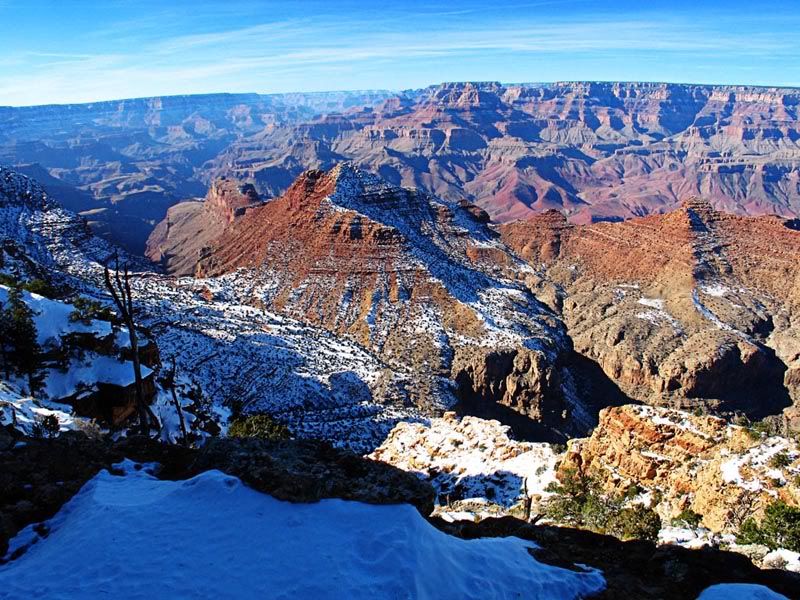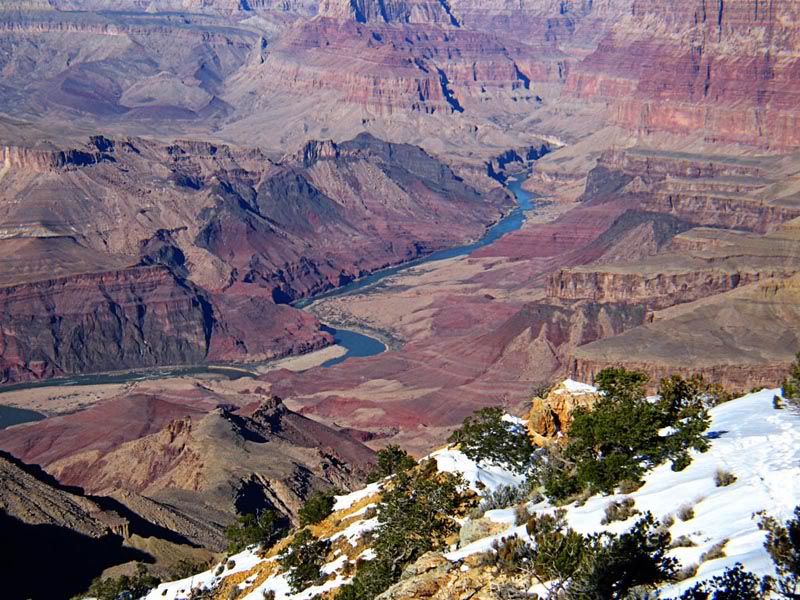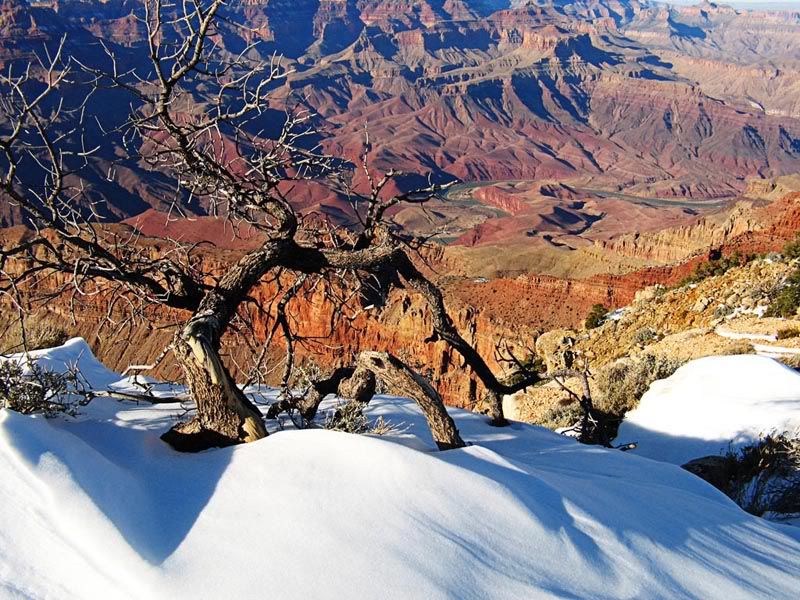 In this picture, Mrs. Whazoo and I have backpacked about 20 miles up river, farther than can be seen, to the confluence of the Little Colorado and Big Colorado Rivers. Where the bright blue travertine waters of the Little merge with the dark green water of the Big Colorado, a sight to be seen. What a trip that was, also in snow conditions. The Watchtower can be seen almost the whole way, except the last 5 miles. In case you're interested, here's the link.Grand Canyon hikes Click pictures twice for full size.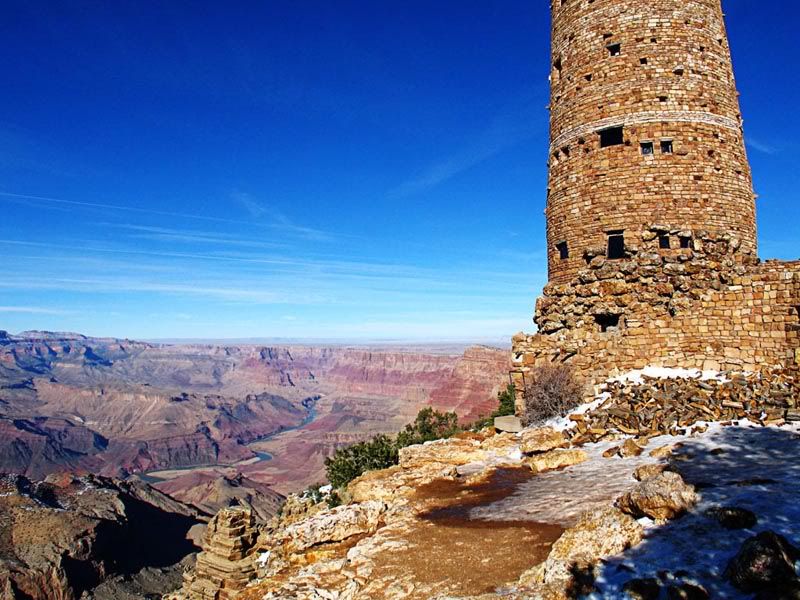 Synopsis: Even when the weather is bad, conditions not great or an "expert" says not to go, we've learned to go anyway. There is always an adventure to have and tell about. And these are some of the best trips, as in this trip, oh yeah!

Exception: MUD! If I know in advance there will be mud, run away.

Conditions: Down to 12 degrees 1 night, mid to upper 20's by day. Nothing froze except my pillow to the soft wall. LOTS of condensation, even with both ceiling vents open. Must have been the showers.

Lesson learned: 4 wheeling in snow with a camper is a bit different than 4 wheeling in snow without! I'd rather be the first one down a snow covered dirt road as the minute a tire catches an edge of previous tracks your wheel gets jerked and you're getting "off track." Plus, the tracks do become iced over and make for some good sideways thrills and even the slightest off-camber portion will take you to the ditch. Women & children scream, grown men weep! Pictures just don't tell that story. Put on chains BEFORE getting stuck! Except that when getting stuck with chains...you are REALLY stuck. (catch 22 on that one) My m.o. was to drive until stuck and then put on chains to get out, which is a pain. Drive slow, as in being able to back out when traction is lost. It's nothing my northern friends don't already know! Also...I prefer getting stuck in snow vs. mud, it's cleaner!

Location: For the secret location of Whazoo Buttes, donate large sums of money to the "Whazoo Needs A New Camera Foundation" and a map will be sent.

Moral: A bad day camping is better than a good day at the office. That's my story...

Thanks for reading,
Dave Rogers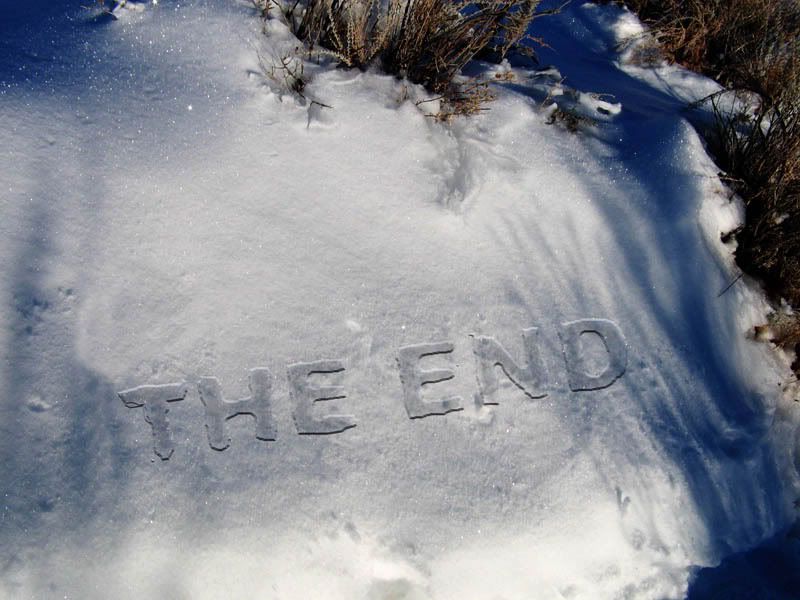 Originally posted on rv.net 1/07/09